CARATTINO 12: Idyllic Seafront Family Retreat
2 bedrooms • 1 bath • 3 terraces • up to 6 guests
CARATTINO 12 is a spacious two bedroom/one bathroom seafront apartment, ideal for a family vacation. This exclusive property is unique in Vernazza, thanks to its 3 private terraces with double panoramic views over the sparkling Mediterranean sea and pastel-colored village.
Relax in the light-filled, airy interiors that are a design lover's dream offering every comfort.
You'll love cooking in the gourmet kitchen, dining al fresco and falling asleep to the sound of the waves below. The kids will love the bunk beds, board games, and Netflix!
Our personalized hospitality means we look forward to sharing our local knowledge with you. In addition to our Welcome Book and "Ruth's Guide to Cinque Terre", we are always available to help you in any way.
This penthouse apartment sleeps 4-6 people (max 5 adults) in 93 square meters:
Amenities include:
| | |
| --- | --- |
| 3 private terraces overlooking the sea and village | WIFI |
| Air Conditioning and Heat | 42" Flat screen Satellite Smart TV with Netflix |
| Fully equipped kitchen with Nespresso | Washing machine, drying rack, steam iron |
| Outdoor dining set and lounge chairs | Comfy mattresses and choice of pillows |
| Family Board games and books | Professionally laundered bed linens, bath towels, and beach towels |
| Toiletries (liquid and solid soap, shampoo, conditioner, body lotion), first aid kit, hair dryer | |
| Cleaning products and Dyson vacuum | Crib and booster seat available upon request |
PLEASE NOTE:
If you want an extraordinary view in Vernazza, you have to earn it: there are 75 stairs to arrive from main street via Roma to Carattino 12. If you have mobility issues or toddlers, this may not be the right place for you.
The bathroom is small, as compared to American bathrooms, but guests love the water pressure in the shower, lots of storage space and the custom slate countertop and flooring.
CARATTINO 12 can be combined with IL CIASSO for a family and friends vacation retreat.
Prices INCLUDE the Town of Vernazza Visitor Tax (Imposta di Soggiorno): €2 per person (ages 10 and up) per night for the first three days of stay, from March 1 to October 31, 2021. Children under the age of 10 are exempt.
Location
Vernazza is a beautiful medieval village filled with multicolored pastel houses nestled between the Mediterranean Sea and the scenic, terraced vineyards on its hillsides. It is one of five Cinque Terre villages in Italy's Cinque Terre National Park.
Carattino 12 is in the center of Vernazza, found on a caruggio, a typical Ligurian medieval alley, and positioned directly over the sea, up and away from the crowds in a tucked-away location where you will enjoy tranquility.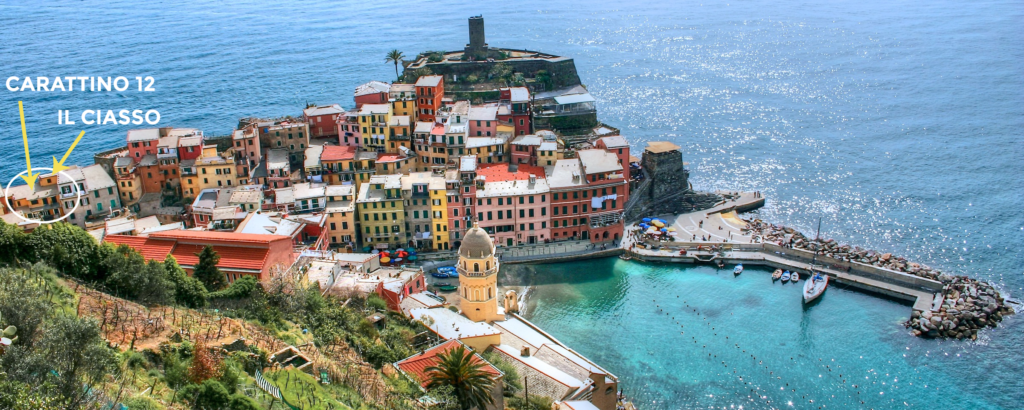 You walk out the front door, down about two flights of stairs and you are on the main street via Roma. From there, a five-minute walk takes you to the train station, Piazza Marconi, and Vernazza's harbor and pier (where you can take a ferry boat or meet a private boat tour).
If you want to hike, it is easy: walk up to reach the trail head to Corniglia or walk down, cross the street and up to reach the trail head to Monterosso or up past the Town Hall to hike to the Sanctuary of Nostra Signora di Reggio (one of our favorites).
We suggest arriving by train because Vernazza is a car-free village, and you will not need a car while in the Cinque Terre. If you have a car, Ruth can advise you on your best options for parking. If you arrive by car service, we can meet you at the entrance to the village where you will be dropped off.
Region of Liguria Identification Code for AAUT: CITRA 011030-LT-0146
Reviews
Brendan | New York, NY
Aug 22 – Aug 24, 2019
We've stayed in over a dozen Airbnbs, and this is hands down one of the best! We came here a year ago for our honeymoon and knew we had to come back again for our 1 year anniversary. Not only is this place spectacular in location and appearance, but Ruth is also the most incredible host. If you're considering staying in Vernazza, do yourself a favor and book this place now!
Joel | Switzerland
August 27 – 29, 2021
Wonderful place, good location, very clean. Absolutely recommend it. Many thanks from all of us for the warm and informative welcome. Exceeds our expectations.
Erin | Denver, CO
Sep 27 – Oct 1, 2019
The perfect vacation home! Ruth made sure our stay was comfortable, with every amenity available. Location & views are amazing – staying here was a highlight of our trip. We'd love to visit Vernazza again, and if we do, we will definitely stay here again. Absolutely wonderful. Thank you, Ruth!
Jessica | Pordenone, Italy
Oct 16 – Oct 18, 2019
Best place to stay in Cinque Terre. The apartment overlooks a beach on one side and the city on the other. Ruth was a phenomenal host and provided us with all the information we could've hoped for to make our trip a success. This was our best Air BnB experience to date. Amazing.