What Is Cinque Terre And Why Visit?
Cinque Terre comprises five villages – Riomaggiore, Manarola, Corniglia, Vernazza and Monterosso – with 4000 residents living in a beautiful, fragile territory, known as one of the world's most beautiful places for hiking and enjoying Italian village life.
Stretching 15 km along the Italian Riviera coast between Levanto and La Spezia in northwestern Italy, Cinque Terre is a steep seaside landscape that humans have transformed with stone walled terraces for growing grape vines and olive trees. Agriculture and tourism drive the economy.
In 1997, UNESCO recognized Cinque Terre as a World Heritage site:
"a remarkable cultural landscape created by human endeavor over a millennium in a rugged and dramatic natural environment. It represents the harmonious interaction between people and nature to produce a landscape of exceptional scenic quality".
In 1999, the Cinque Terre territory and towns became the Cinque Terre National Park and Marine Protected Area. The Cinque Terre Marine Protected Area is part of the Pelagos Sanctuary for Mediterranean Marine Mammals, a vast area from the French Riviera to Corsica to Sardinia to the Tuscan and Ligurian coasts to protect dolphins, whales, and other marine life. If you are out on a boat, keep your eyes open for dolphins frolicking in the waves!
Many guidebooks describe "Cinque Terre" as "the Five Lands" but this is merely a literal translation. Cinque Terre is so much more than villages with pastel houses or a day trip!
Cinque Terre is:
a rugged, coastal landscape with a resilient population
the sea and the land
5 medieval villages that continue to evolve from their founding around 1000AD
an economy based on tourism but also agriculture
modern attitudes but enduring love and respect for traditions
Cinque Terre DOC white wine with its pale, straw color, dry yet aromatic taste of the land and the sapidity of the sea
Sciacchetrà, a very special passito wine handmade with sun-dried grapes
A place to savor freshly made pesto, seafood, focaccia, and other local specialties
Cinque Terre is a place for active, outdoor activities and also relaxation in peaceful nature. Cinque Terre is a place and a people that enter your heart.
Each village of the Cinque Terre is unique and worth visiting. Discover hidden corners and hike on the extensive network of trails along the coast (you will need a "Cinque Terre Card" from the National Park) or the amazing free trails connecting the Sanctuaries above each village. Swim in the turquoise sea. Village life is relaxed and social: kids play in the piazzas while parents have an Aperitivo.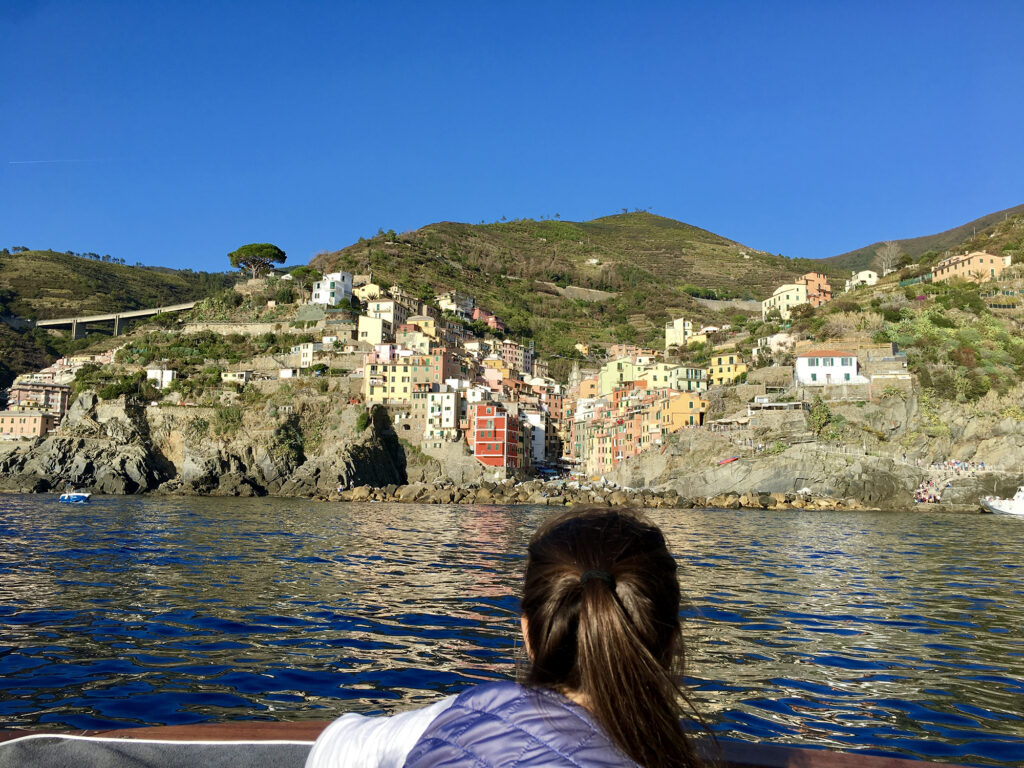 RIOMAGGIORE
The first town as you arrive from La Spezia, with the headquarters of the Cinque Terre National Park and the world famous "Via dell'Amore" (unfortunately, still closed but to reopen in 2023?)
Experience Riomaggiore's "verticality" by walking downhill from the Castello through the winding alleys of the village to the sea
I love Riomaggiore's marina, with excellent restaurants like Rio Bistro and Dau Cila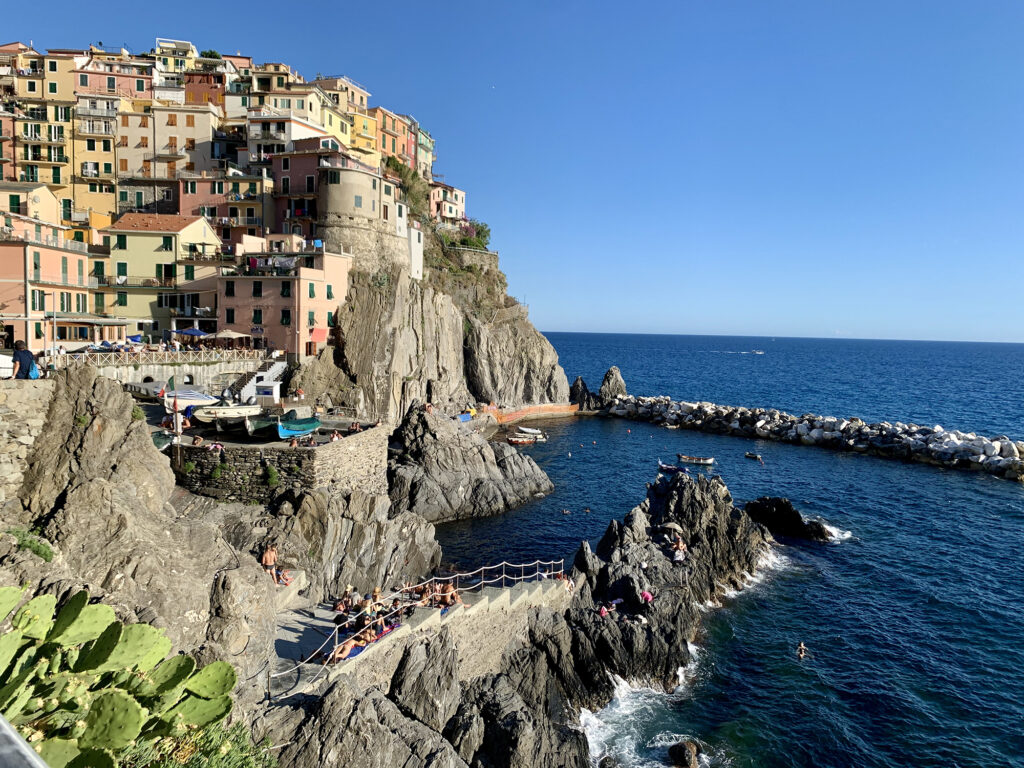 MANAROLA
Built on hillsides surrounded by terraced vineyards, Manarola is one of my favorite places, beautiful in every season
Home to the largest number of wineries in the Cinque Terre with great hiking
See incredible views from the small children's playground overlooking the marina and the entire coastline
Walk through the world's largest Presepe, a Christmas Nativity Scene lovingly built over decades by local Mario Andreoli and illuminated annually from December 8 to January 6
Enjoy everyone's favorite place for an Aperitivo or pesto class at Nessun Dorma, overlooking the marina
Manarola offers quality experiences, shops and delicious restaurants serving local food like our favorites Cappun Magro and A piè du Campu and Volastra's Locanda Tiabuscion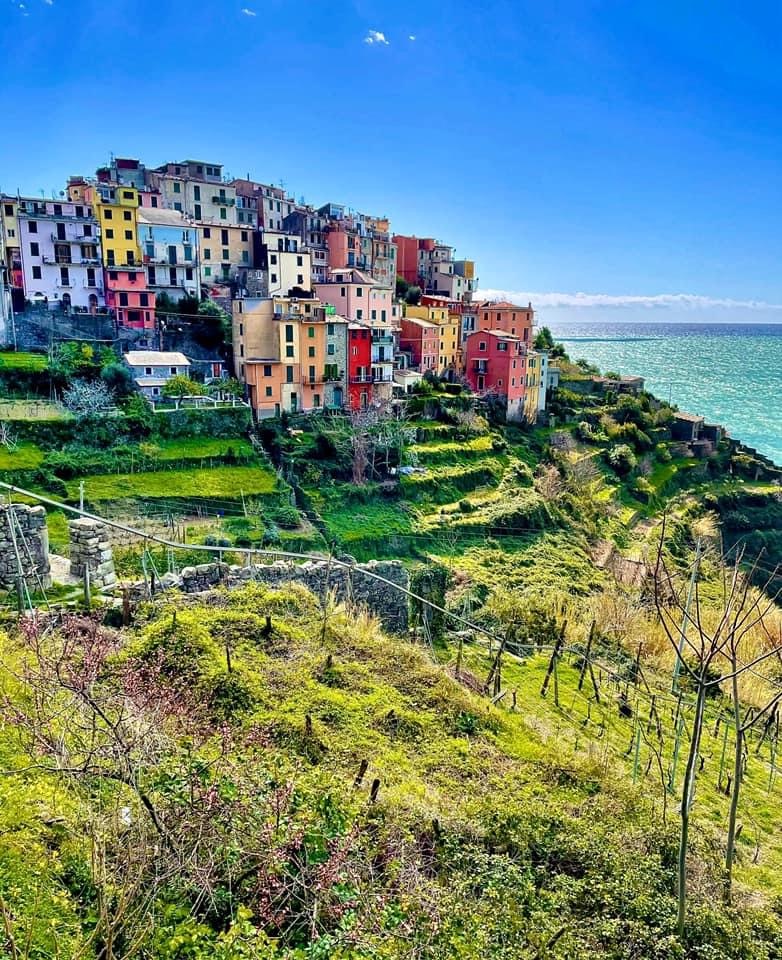 CORNIGLIA
Built on a hilltop 100 meters above the sea, Corniglia is more like a mountain village with amazing views over the coastline
The smallest village and the hardest to reach: from the train station on the coast to the village center, you either walk up the 382 steps of the Lardarina staircase or take the minibus
Corniglia is well-loved by its residents who display their plants on their stoops
A walk through Corniglia always feels a bit like a walk back in time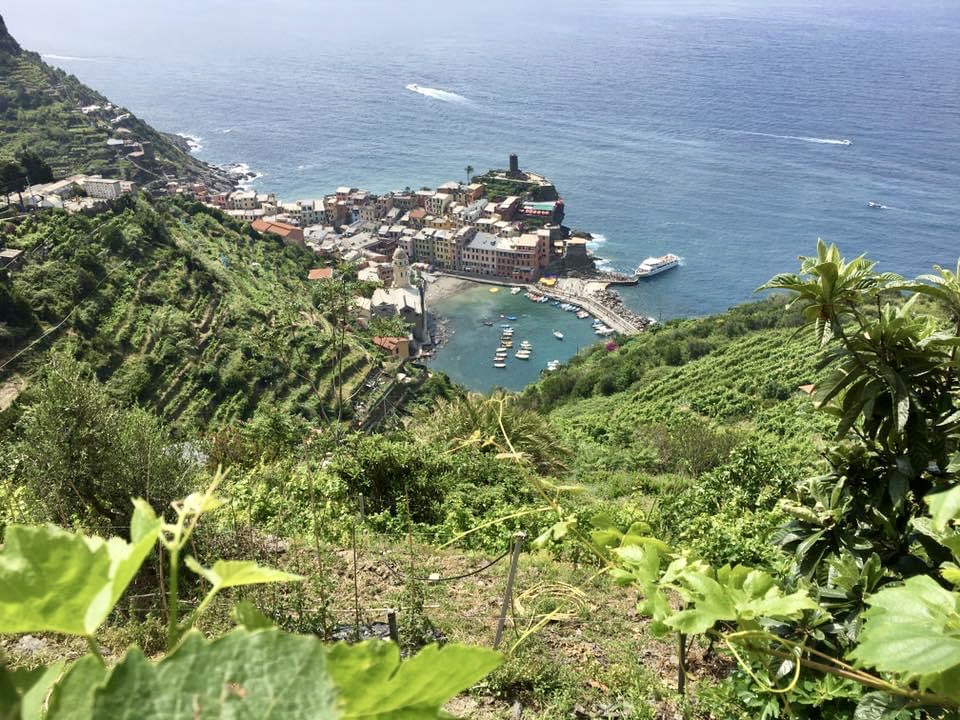 VERNAZZA
One of the most beautiful coastal villages in the entire Mediterranean, Vernazza is my favorite. I fell in love with Vernazza (and my husband, who I met in Vernazza) at first glance in 1995. They have both been charming me ever since!
Explore main street via Roma from the train station to Piazza Marconi then search through the narrow medieval lanes called caruggi for your favorite doorways
Stroll around or swim in the natural harbor, filled with typical Ligurian gozzi (boats)
The Church of Santa Margherita d'Antiocchia is a stunning example of Romanesque and Ligurian Gothic architecture and it is one of the few Roman Catholic Churches with the entrance "behind" the altar. Its simple stone interior comes alive when the reflection of waves sparkles through the windows
Hike up to the Sanctuary of Nostra Madonna di Reggio for stunning views of Vernazza and the sea below and to see the oldest tree in Liguria, an 800 year old common Cypress (Cupressus sempervirens Linneo)
Stargaze at night without the disturbance of ambient lighting (make a wish if you see a falling star)
We have so many favorite places to eat and drink in Vernazza! Some include Blue Marlin, Ananasso Bar, and Gianni Franzi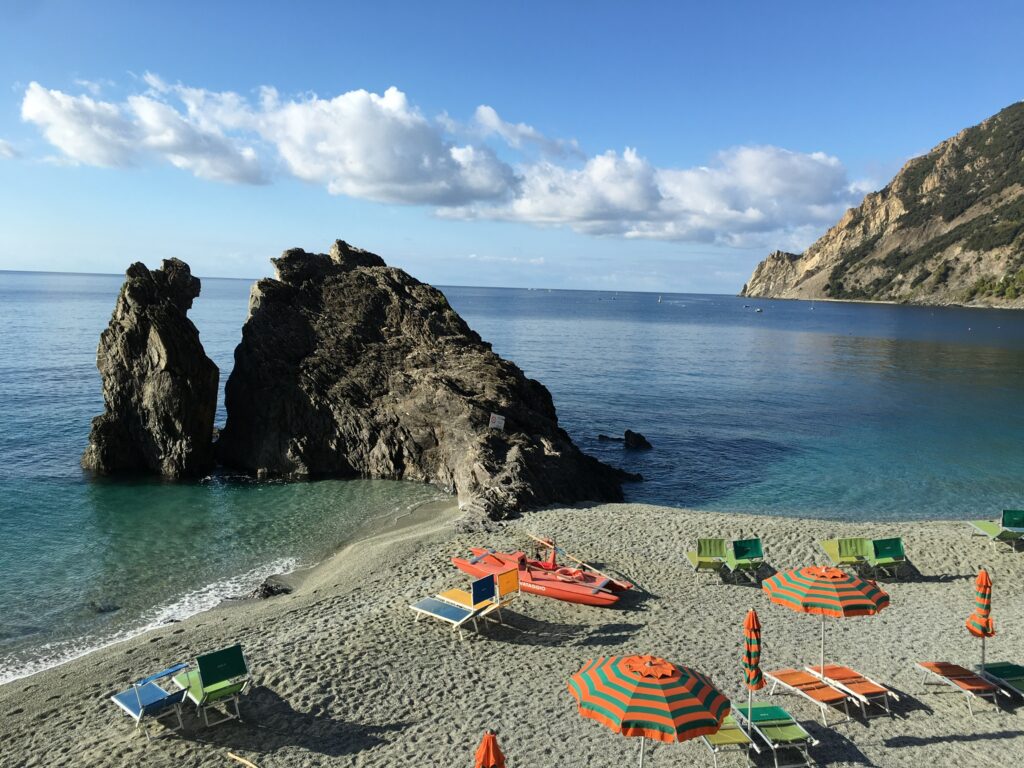 MONTEROSSO
The largest, mainly flat village with resort vibes, Italian beach clubs, hotels, and restaurants
Divided in two parts by a tunnel: the quaint and lively Old Town and Fegina (the New Town) with the train station and beaches
Fabbrica d'Arte Monterosso is my favorite artisan shop with gorgeous handmade ceramics and other special items
We love to rent an umbrella and spend the day at the beach!
Our favorite places to eat are Enoteca Internazionale, Miky and CausaPersa
Each season offers something special, from spring's green rebirth on the hillsides, to summer's lazy days filled with swimming into late summer's grape harvest and autumn's mix of sun and cooler temperatures perfect for hiking. Winter is quiet and can be rainy, but it also offers some of the best sunsets!
In recent years, Cinque Terre has become perhaps too well known. Rumors fly about introducing rules to limit tourist access and manage tourist flows, but so far nothing has been done.
To avoid crowds, we suggest:
sleep in the Cinque Terre;
hike before 10am or after 4pm;
walk uphill in the villages (5 minutes uphill and you will be alone);
avoid peak train travel.
With the arrival of the global pandemic in 2020, the Cinque Terre has "turned back the clock" to the quiet coastal villages that I discovered on my first trip in 1995. Locals greet each other on the streets, children play soccer in the piazza, and everyone is hiking, swimming, cultivating vineyards and gardens and fishing.
Travelers are welcomed with open arms, as most of the businesses are locally owned and the pandemic lockdowns have meant that many families have lost their source of income.
Everyone in Cinque Terre is eager to welcome travelers back in 2021. We are hopeful that vaccinations will allow international and Italian travelers to come to Cinque Terre and enjoy our magical corner of the world. Outdoor dining for lunch and dinner is the perfect way to stay safe and taste our territory!
We invite you to stay at our two vacation rental properties in Vernazza, CARATTINO 12 and IL CIASSO' to experience the best Cinque Terre vacation:
Enjoy sweeping sea views from the seafront terraces
Hang out in the airy, modern interiors, play board games, or watch Netflix
Whip up a meal in the well-stocked Gourmet kitchen
Dine al fresco on the terrace
Fall asleep to the sound of waves
Our guests receive "Ruth's Guide to Cinque Terre" with all my tips and favorite places to help you make the most of your time in Cinque Terre. We look forward to welcoming you.