Where to Stay in Cinque Terre
Guest Post By Michelle Damiani, writer of Il Bel Centro
If you scroll through my website, you'll notice I rarely recommend specific apartments. I do for Spello, mostly because I get so many people emailing to ask about where to stay in Spello, I figured I might as well put all my recommendations in one easy to access place. Other than that, I figure you can probably search Booking or AirBnb as well as I can. But our home in Cinque Terre added a surprising element of grace and beauty to our time there, that I had to tell you about it (you can also check out my Instagram stories under "Cinque Terre").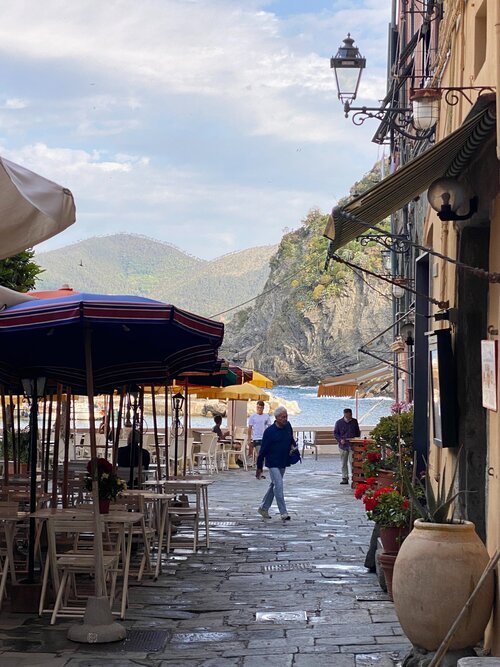 I found Carattino 12 in Vernazza by a sheer stroke of luck and want to extend that luck to you (especially because if you book direct, you'll get the best price). Even though the Airbnb photos and reviews were uniformly excellent, they still didn't prepare me for the astonishment as I crested the stairs to greet a glass door, propped open to welcome sea breezes wafting over crystalline waters. Nudged by my children to move on already, I turned and stopped again, this time stalled at the view of a flower-filled terrace, with the tumble of Vernazza's colors beyond.
So yes, the views. The views are, in a word, spellbinding. There's one terrace perched out over the sea, another off the kitchen with a table and loungers set up to watch the sun set over Vernazza, and another one besides. And windows galore! Light fills and pools every corner of this home (though there are shutters if you'd like less of it to wake you in the morning).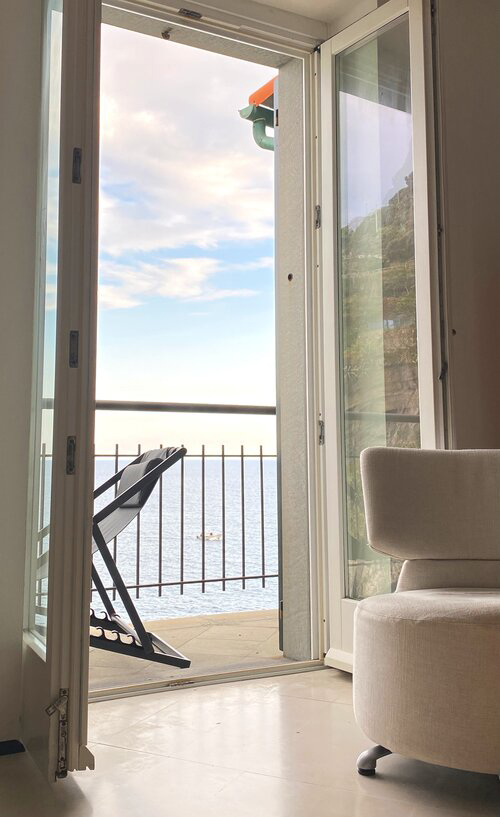 Besides the views, Carattino 12 boasts the most well thought out design and management I've experienced. Until the host and owner, Ruth, pointed it out, I hadn't noticed that the actual square footage is relatively small. Such good use is made of every centimeter, there's a real air of spaciousness to the apartment. The architect designed the home to be akin to a ship (how perfect for Cinque Terre), so there is ample storage for every little detail to have a home.
Beyond that, Ruth and Cristiano have added details of their own; thoughtful touches that add spontaneity and pleasure to a vacation. One drawer holds a spectacular set of binoculars for us to watch boats pass and seagulls fly. One contains a plethora of different sized goggles. In one bathroom niche, I found a fresh package of masks along with a travel-sized bottle of hand sanitizer. Tote bags hang in the hallway, waiting to fill with beach towels stocked in the cupboard. Seeing them, I almost couldn't contain my enthusiasm to head down to the harbor. But in the next moment, I noticed so many good books marching across the shelf, which also held stacks of board games and suddenly I found myself wishing for a stormy day just to have a day to play indoors while gazing out at the rain falling on the sea.
The kitchen comes stocked with every size plate or glass one could need, as well as kitchen tools and platters and packages of pretty napkins. Not to mention the "basics" Ruth stocked—beautiful olive oil, speciality chips and Ligurian crackers, olives, wine from the only winery in Vernazza (I can't tell you the joy of sipping wine while looking out over the vineyard it came from), Nutella, jam and of course spices and seasonings and a whole shelf of coffee and tea.
The comfort and beauty of the apartment would be enough to earn my rave review, but the real boon here is Ruth's knowledge of Vernazza. The apartment belonged to her mother-in-law, so she is intimately in tune with what makes Vernazza wonderful and how to find hidden corners to delight and surprise, even in full tourist season. Her "Ruth's Guide" is a treasure trove of information from hiking trails and swimming spots (you can read more in my post on our trip), as well as dining and transportation and her favorite shops (we bought some gorgeous ceramics at Fabbrica d' Arte on her recommendation). She's President and co-founder of the non-profit "Save Vernazza", whose mission is to rebuild, restore, and preserve Vernazza after the devastating flood and mudslides of 2011. A worthy cause, but I mention it here so that you understand Ruth's ties to the community. Plus, her husband spent summers and weekends in Vernazza since childhood. This is all to say, they are uniquely familiar with the history and life of Vernazza.
Sensing my curiosity, Ruth showed me her other apartment, Il Ciasso, which can connect to Carattino 12 for larger groups. This one-bedroom apartment retains the same architecturally snug style as Carattino 12 (which has 2 bedrooms), with a terrace over the sea. The bedroom, tucked upstairs, has windows facing the sea and windows on the opposite side of the room facing Vernazza. In this way, both apartments boast a real sense of unity between the sea and the land, much like Cinque Terre itself. They both also feel like they absorb light only to redouble it and give it back—the very air in these apartments feels golden.
Pretty spectacular.
If you rent Carattino 12 or Il Ciasso, make sure you ask Ruth about the history of the space. As it once belonged to Ruth's mother-in-law, she has an insider's perspective on the transformation of each space, as well as how they fit into Cinque Terre life. For instance, Ruth told us that a ciasso is a particular word in the Vernazzan dialect to refer to a piazza that faces the sea. She added that some houses and places in Vernazza have specific names passed down through the oral tradition and this apartment, Il Ciasso, is the nickname locals have dubbed the apartment.
Apparently there are loads of these little public spaces all over the village. I found one on my own, but never would have found the one in front of Il Ciassio, as you have to walk through a walkway that seems private before arriving at the postage stamp sized piazza, framed by homes on three sides and the sea on the other.
Which pretty much sums up what I loved about staying at Carattino 12…the apartment is unique and yet tied to the history and character of the town, such that just pouring a glass of wine to sit on the terrace seems like winding your own experience with that of the village. Couple that with the care Ruth takes to make sure that guests have a relaxing, personalized experience and you'll understand why I recommend Ruth's apartments with my whole heart.
I can't wait to stay there again.
Michelle Damiani
Author of:
Il Bel Centro: A Year in the Beautiful Center
Santa Lucia Series
The Road Taken: How to Dream, Plan, and Live Your Family Adventure Abroad